View Education Information
Gain Practical, Personalized Knowledge From Valuable Scientific Education
At the ASCP 2019 Annual Meeting, you will build advanced skills and discover the latest innovations directly applicable to your practice. Choose from over a hundred hours of practical scientific education presented by some of the most respected leaders in the field today.
Identify Strategies to Promote Advancement in Your Lab Today
The healthcare environment is rapidly changing, with new technologies and practices revolutionizing the diagnostic medicine profession. Keep your lab on the forefront of the field, while learning appropriate test utilization techniques to improve outcomes, become more cost effective, and enhance patient care.
Discover Your Leading Role in the Challenges Ahead
Hear globally-recognized change agents and respected experts discuss the critical issues and emerging trends affecting our profession. Learn how to operationalize appropriate test utilization, and identify how to convey your valuable expertise to the clinical care team.
Get the Certification Support You Need All in One Place
Choose from a wealth of educational sessions offering credits toward your CMP or CC (formerly MOC) requirements.
Pathologists: Get SAMs CME credits you need for CC
Pathologists under CC can earn up to 19.5 hours of SAMs CME credit at the ASCP 2019 Annual Meeting.
With the majority of our educational sessions offering SAMs CME credits and 100+ sessions offering you up to 22.5 total CME credits, the ASCP 2019 Annual Meeting has the education you need to stay current.
Lab Professionals: Discover education to keep you current under CMP
For laboratory professionals, the ASCP 2019 Annual Meeting makes earning CE credits toward CMP easy, with up to 22.5 CMLE credits available throughout the meeting. Choose from sessions covering every topic area needed to meet your three-year recertification requirement.
Renowned Speakers Covering Crucial Topics
Hear from leaders in the field about critical issues and emerging trends affecting pathology and lab medicine today, and discover your leading role in addressing the challenges ahead.
Grand Opening General Session Featured Speaker
Her Royal Highness Princess Dina Mired of Jordan
Wed., Sept. 11, 2019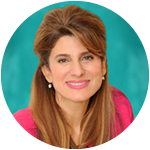 Her Royal Highness Princess Dina Mired of Jordan, President of the Union for International Cancer Control (UICC), is one of the world's most powerful female voices in the global fight against cancer and non-communicable diseases.
The mother of a cancer survivor, HRH Princess Dina has been a trailblazing force behind the King Hussein Cancer Foundation in Jordan, serving as Director General for fifteen years and transforming the non-profit into an internationally-known leader in the global movement for people affected by cancer. She is also a leading figure advocating for early detection and screening of breast cancer for women in Jordan, and served as the Honorary Chairperson of the Jordan Breast Cancer Program (JBCP) from 2006-2016.
In 2011, she was honored to have been chosen to deliver the keynote speech on behalf of civil society at the first ever United Nations High-level Meeting on non-communicable diseases. The meeting focused attention of world leaders on critical concerns about non-communicable diseases (NCDs) – including cancer, heart disease, diabetes, and chronic respiratory illnesses – which are responsible for more global deaths than all other causes combined. Also, in 2018, she was chosen again to speak at the third High level meeting on NCDs as "Eminent Champion of the fight against Non-communicable diseases" on the prevention and control of non-communicable diseases.
Featured Sessions Led by the Top Minds in your Field
At the ASCP 2019 Annual Meeting, you'll find practical scientific education covering the entire landscape of pathology and laboratory medicine taught by some of the most respected leaders in the field. You'll have the opportunity to gain knowledge to promote advancement in your lab and improve patient care.
Past examples of Featured Sessions and Tracks
The Burnout Dilemma: How to Implement a High Stress Resiliency Strategy Among Laboratory Professionals – APF Session
Lawsuits, CLIA, Labs, and Public Policy: An Update on How Government Affects the Pathology and Lab Community
Diagnostic Challenges in Breast Biopsy Interpretation: The Value of Radiologic-Pathologic Correlation
Data Analytics 101: Fundamental Concepts for the Laboratory Professional to Survive in a Value-Based World – APF Session
Continuing Certification Update from the American Board of Pathology (ABP)
2019 Call for Abstracts is Now Open
Presenting your research at the ASCP 2019 Annual Meeting in Phoenix, Arizona, September 11-13, will showcase your knowledge and dedication to discovery in front of a prestigious global audience!
The Process Is as Easy as 1 – 2 – 3
Submit Abstract - Summarize your hard work in 300 words or less, and submit online by March 20, 2019.
Get Noticed - Presenting at the ASCP 2019 Annual Meeting gives you instant credibility and puts your research up for discussion in front of peers and internationally renowned faculty.
Become a Big Deal - Prizes are just the beginning. Past entries have garnered national media attention, catalyzed significant changes at their institutions, and fast-tracked backing for expanded research. Cue the applause!!!
Present Your Poster in Phoenix!
Beat the rush this year and submit now! Multiple submissions will be accepted.
Submission deadline is March 20, 2019.


"Being recognized as a Best Poster award winner gave me the opportunity to implement process improvements that will save money and staff time in my lab. Winning this award is a catalyst for my colleagues to do more."

~Su-Chieh Pamela Sun, MT(ASCP), MPA, Supervisor, Central Laboratory, New York-Presbyterian Hospital-Weill Cornell Medical Center, New York